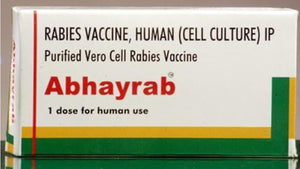 Abhayrab is a lyophilized, purified, inactivated Rabies vaccine that contain inactivated rabies virus.It is given to people who are at higher risk of coming in contact with rabies like veterinarians. It is also given to people after an animal bite if the animal could have rabies. If the vaccine is given immediately and appropriately, it is 100 percent effective.
Indications: Abhayrab is indicated in people who are at higher risk of developing rabies. It is widely used to prevent and treat rabies.
Dose administration:
For Intramuscular Vaccination:

Pre-Exposure: 0.5 mL or 1.0 mL of reconstituted vaccine (as per diluent supplied) on days 0, 7 and 21 or 28
Post-Exposure: For a new case: 0.5 mL or 1.0 mL of reconstituted vaccine (as per diluent supplied) on days 0, 3, 7, 14 and 28.
Adverse effects:
Abhayrab may cause the following adverse effects;
Mild pain, rash, and redness at the site of injection
Fever
Headache
Muscle pain
Discomfort
In rare cases, abhayrab may cause high fever, arthritis, lymphadenopathy, and anaphylaxis.
Warnings and Special precautions
Concurrent use of immunosuppressive agents like corticosteroids should be avoided as it may hamper the development of protective antibodies.
Delay in the commencement of post-bite therapy, incomplete and irregular therapy can cause failure of vaccination and inadequate protection against rabies
Vaccine should never be administered into the gluteal region, where absorption is unpredictable.
Alcohol and other disinfecting agents must be allowed to evaporate from the skin before injection of the vaccine.
STORAGE
Store in a refrigerator (2 - 8°C). Do not freeze.