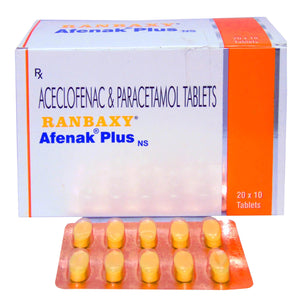 Contents: Aceclofenac
Description: Aceclofenac is a nonsteroidal anti-inflammatory drug (NSAID) analog of diclofenac. It is used for the relief of pain and inflammation in rheumatoid arthritis, osteoarthritis and ankylosing spondylitis.
Indication/Use: Afenax Tablet is a pain reliever for osteoarthritis patients suffering from long-term joint damage. This medication functions by blocking the body from releasing an organic material that causes swelling and pain.
Dosage: Afenax is usually taken  100mg twice a day. Should be taken with food
Contraindication: Patients with hypersensitivity to aceclofenac, aspirin, ibuprofen, or other nonsteroidal anti-inflammatory drugs (NSAIDs).
Special Precaution: It is not recommended for children, patients with history of bronchial asthma and history of gastrointestinal disease.
Pregnancy & Lactation: Aceclofenac should not be given to people with porphyria or breast-feeding mothers. It should be avoided near term in a pregnant woman because of the risk of having a premature closure of ductus arteriosus leading to fetal hydrops in the neonate.