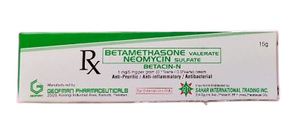 Description: Betacin-N is a cream that has two active components, betamethasone valerate and neomycin sulphate. Betacin-N is applicable for dry lesions and particularly useful for skin areas where topical absorption is poor such as the palm, sole, elbow and knees. It is used to treat infections. 
Dosage: Apply a thin film 2-3 daily. 
Storage: Store below 25 °C.