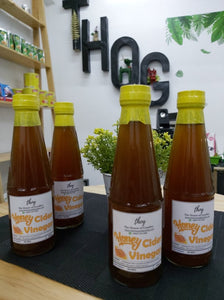 Pure Raw Honey Cider Vinegar is a mixture of Virgin Honey and Bee Pollen
.
it is perfect for eliminating the body's wastes & contaminants and enhancing digestion & bowel movement.
it changes your body's chemical reaction from acid to alkaline in reaction.
it helps lower uric acid, cholesterol and blood sugar & arthritis.
it also helps to relieve headaches of migraine, melt gallstones, lower hypertension, and melt stones of the kidney and bladder.
How to use:
For cleaning and detoxifying the digestive system

First thing in the morning, take one tablespoon of Honey Cider Vinegar in a glass of tea. After that, you can drink one more glass of water. Don't leave home right away, please. The mixture will lubricate the digestive tract; it will speed up bowel movement.

For Indigestion

After eating put one tablespoon of Honey Cider Vinegar in a glass of water.

For Salad and Sauces

Mix Honey Cider Vinegar with some extra virgin olive oil and a splash of pepper. It is a perfect dressing for spinach, arugula, tomatoes, and salad sprouts.
Caution:
Please just take some Honey Cider Vinegar when you try it first. Try this for a couple of days. When no negative responses are felt, continue using.
Do not take Honey Cider Vinegar if you are suffering from ulcers, hyperacidity or if your digestive tract is impaired.