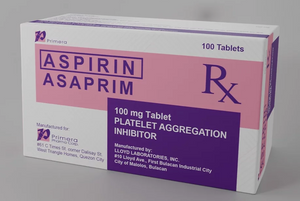 Aspirin's anti-thrombotic effect is mediated by inhibition of blood platelets by blocking a platelet enzyme cyclooxygenase. Inhibition of this enzyme blocks the production of an important prothrombotic agent known as Thromboxane A2. Thromboxane causes activation and aggregation of platelets which is an early stage for thrombosis.
INDICATION
Aspirin is used for
pain,

fever,

inflammation

prevention of myocardial infarction and stroke.
 DOSAGE AND ADMINISTRATION
Prevention of Myocardial infarction and stroke 75mg to 100mg daily.

Analgesic and Antipyretic 300mg to 900mg every 4 to 6 hours.

Juvenile Rheumatoid arthritis 80mg to 100mg per kg body-weight in 5 to 6 divided doses with up to 130mg per kg daily

or as prescribed by the physician.