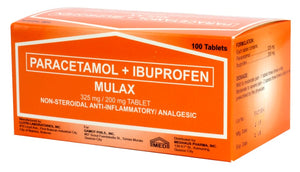 Ibuprofen/paracetamol, sold under the brand name Combiflam among others, is a fixed-dose combination of the two medications, ibuprofen, and paracetamol (acetaminophen). It may be used for fever, headache, muscle pain and menstrual cramps. Ibuprofen belongs to nonsteroidal anti-inflammatory drug (NSAID) class of drugs.
Dosage: The dosage of this medicine depends on the prescription and instruction given by your doctor.
Precautions: Do not take this medicine without any medical consultation with your doctor.