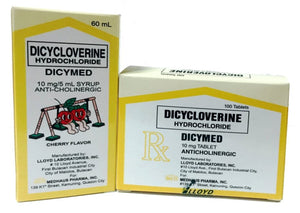 Dicycloverine, also known as dicyclomine, is a medication that is used to treat spasms of the intestines such as occur in irritable bowel syndrome. It is taken by mouth or by injection into a muscle. While it has been used in baby colic and enterocolitis, evidence does not support these uses.
Dosage: 1 to 2 teaspoons per day or refer to the prescription and instruction given by your doctor.
Precautions: It should not be given to patients with closed angle glaucoma or to patients with a narrow angle between the iris or cornea, since its use may increase the intra-ocular pressure.
Storage: Store at a temperature not exceeding 30°C.