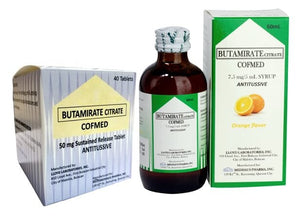 Description: Butamirate or brospamin is considered a cough suppressant. A study found it to bind to the cough center in the medulla oblongata, more specifically the dextromethorphan-binding site in guinea pig brain with high affinity.
Dosage: 2-3 tablets daily or refer to the prescription and instruction by your doctor.
Precations: If you are having pregnancy and lactation, do not take this medicine. 
Storage: Store at temperatures not exceeding 30°C.