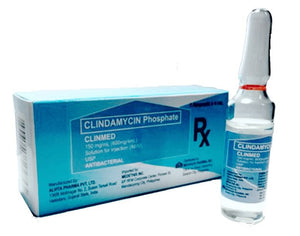 Description: Clindamycin is an antibiotic used for the treatment of a number of bacterial infections, including bone or joint infections, pelvic inflammatory disease, strep throat, pneumonia, middle ear infections, and endocarditis. It can also be used to treat acne, and some cases of methicillin-resistant Staphylococcus aureus (MRSA). In combination with quinine, it can be used for malaria. It is available by mouth, by injection into a vein, and as a cream to be applied to the skin or in the vagina.
Dosage: The dosage of this medicine depends on the prescription and instructed by your doctor.
Storage:  Store at temperatures not exceeding 30°C. Protect it from light.