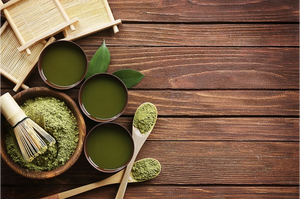 Matcha is a powdered form of green tea, used traditionally in Japan.
Matcha powder can be included in almost any meal, so it is easy to start a new healthy habit with this powerful super food.
Uses of Matcha Powder
Make matcha tea.
Put it in your baked goods.
Mix it in your morning oatmeal or bowl of granola
Use matcha noodles.
Give a boost to your green smoothie.
Make a matcha latte.
Matcha Health Benefits
High In Antioxidants
Protects the Liver
Boosts Brain Function
Helps Prevent Cancer
Protects Your Heart
Helps You Lose Weight