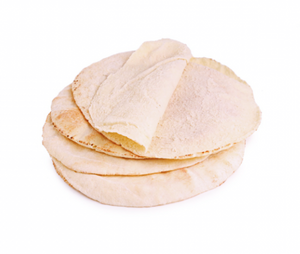 All of the ingredients are low-carb and perfect for a keto diet !!!
Pita bread has roots in the prehistoric flatbreads of the Middle East. There is evidence from about 14,500 years ago, during the Stone Age, that the Natufian people in what is now Jordan made a kind of flatbread from wild cereal grains. Ancient wheat and barley were among the earliest domesticated crops in the Neolithic period of about 10,000 years ago, in the Fertile Crescent. By 4,000 years ago, bread was of central importance in societies such as the Babylonian culture of Mesopotamia, where the earliest-known written records and recipes of bread-making originate, and where pita-like flatbreads cooked in a tinru (tannur or tandoor) were a basic element of the diet, and much the same as today's tandoor bread or taboon bread. However, there is no record of the steam-puffed, two-layer "pocket pita" in the ancient texts, or in any of the medieval Arab cookbooks, and according to food historians such as Charles Perry and Gil Marks it was likely a later development.
We added the keto twist in our Pita. Instead of using yeast-leavened round flatbreads baked from wheat flour, we used coconut flour, psyllium husk, coconut oil and Himalayan salt. No yeast.