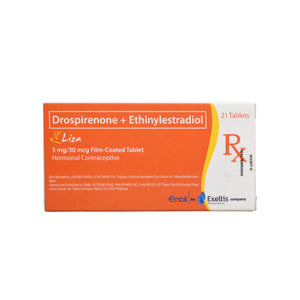 Liza Contraceptive used to prevent pregnancy.
Oral contraceptives are very effective method of birth control. The chance of becoming pregnant is very low when the pill is taken correctly.
Liza may also have non-contraceptive health benefits: Prevent weight gain and other symptoms eg, bloating and swelling which are related to fluid retention.
Drospirenone also has antiandrogenic activity which can help to reduce acne and greasiness of the skin and hair. With these special properties, drospirenone is similar to the natural progesterone hormone produced by the body.
Each film-coated tablet contains drospirenone 3 mg and ethinylestradiol 30 mcg. It also contains the following ingredients: Tablet Core: Lactose monohydrate, pregelatinized starch, povidone, croscarmellose sodium, polysorbate 80, magnesium stearate