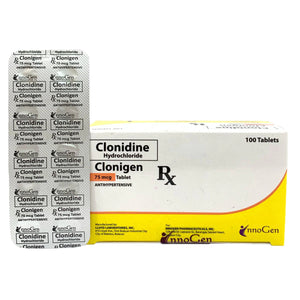 Description: Clonidine is used to treat high blood pressure, hypertension in pregnancy, hypertensive crisis, menopausal flushing, diarrhea, attention deficit hyperactivity disorder, drug withdrawal, spasticity (Tourette's Syndrome), migraine headache and certain pain conditions.
Dosage: Hypertension 50-100 mcg 3 times daily, increased every second or third day; usual maximum dose 1,200 mcg daily.
Precaution: Do not use this medicine unless approved or instructed you to do so by your doctor. 
Storage: Store at temperatures not exceeding 30°C.