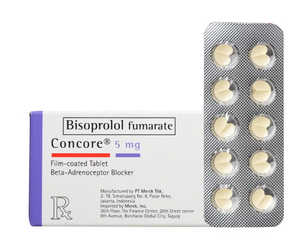 Concor (Bisoprolol) is a prescription medication that works by affecting the response to nerve impulses in certain parts of the body, mainly the heart. It specifically targets the beta-adrenergic receptors in the heart, leading to several effects, including:
Lowering Blood Pressure: Concor helps reduce high blood pressure by slowing the heart rate and decreasing the force with which the heart pumps blood. This ultimately leads to reduced pressure on the blood vessels.

Managing Heart Conditions: Bisoprolol is often prescribed to manage various heart conditions, including congestive heart failure and certain types of arrhythmias (irregular heart rhythms). By slowing down the heart rate and reducing its workload, it can help improve the heart's efficiency.

Preventing Migraines: Some doctors may also prescribe Bisoprolol to prevent migraines, as it can help control blood vessel dilation and reduce the frequency and severity of migraine attacks.