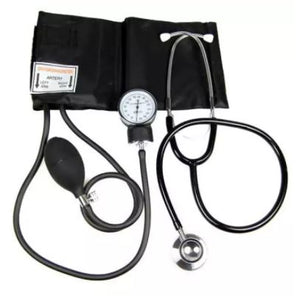 A complete blood pressure kit: The  Aneroid Sphygmomanometer handheld kit will arrive full, accompanied by a quality stethoscope. Everything will be neatly packed in a carrying case
A blood pressure monitor for life: This manual bp cuff is equipped with pin stop movement, along with an extended universal blood pressure cuff, made of high-quality PVC and polyester (latex-free)
Accurate and precise: Designed to deliver clinical accuracy, with its metal gauge made of zinc alloy, along with the stethoscope, rest assured that you will be getting accurate and precise measurements
Easy to use: The sphygmomanometers have large contrasting figures on the monitor and make them suitable for older people or people with low vision. The air release valve can be operated using only your thumb
A trustworthy medical tool: Portable and lightweight, it can be carried without causing any discomfort, so that you can take it with you while traveling, at work, at home, everywhere!