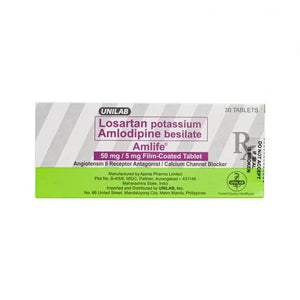 Losartan K, amlodipine besilate.
Uses: Treatment of mild to moderate hypertension. It is also indicated in hypertension not responding to monotherapy with calcium antagonists or angiotensin II receptor antagonists.
Adverse Reactions: Losartan plus amlodipine is well tolerated. Adverse effects include nausea, headache, dizziness, abdominal pain, fatigue, flushing, palpitation, and asthenia.
Dosage/Direction for Use
Usual Initial Dose: 1 tablet daily.
If blood pressure control is inadequate after a week or 2, the dose may be increased. The dosage, however, should be individualized. It may also be substituted for the titrated doses of the individual components.